These are the volunteers who help SambaLá move forward into the future!
David de Hilster
President
David de Hilster (see his full samba bio here) is an American who lived in Rio de Janeiro for almost 3 years. He started the samba school to create a community for his wife Doris back in 1994 in Long Beach California. David is the president and music director for the group having been the first non-portuguese speaking singer to sing in Rio's famed Sambadrome. He was the creator of the event "Unidos do Mundo" where he helped organize over 19 countries parade in the sambadrome in the year 2000. David, along with wife Doris, produced the Brazilian Street Carnaval in Long Beach from 1996-2010 as well as the Brazilian Day in Los Angeles in 2011 and 2012. David has a bachelor's degree in mathematics and a master's degree in Linguistics from the Ohio State University and is currently a supercomputer research scientist who works with computers and human languages. He is also an accomplished artist, filmmaker, and scientist who is authoring a book on a model for the Universe. David also has his own YouTube channel "Dissident Science". David is married to Doris de Hilster and they have a daughter Luanda and live in Boca Raton Florida. His personal homepage: http://www.dehilster.com
Doris de Hilster
Carnavalesca / Show Director
Doris de Hilster is a Brazilian from Rio de Janeiro and is an accomplished clothes and costume designer who lived in Los Angeles for over 20 years. Her costumes have been featured on Dancing with the stars two times, in the 2010 Rose parade with 65 dancers on the Jack-in-the-Box float, and internationally in South Korea for Kia Motors as well as in the Sambadrome in Rio de Janeiro Brazil in the year 2000. Doris is owner of Samba Collection, a design and manufacturing studio in Pompano Beach where she designs and makes costumes that she sells around the world as well as doing alterations for one of the most prestigious apparel cleaners in Florida. Doris is married to David de Hilster and have a daughter Luanda and live in Boca Raton Florida.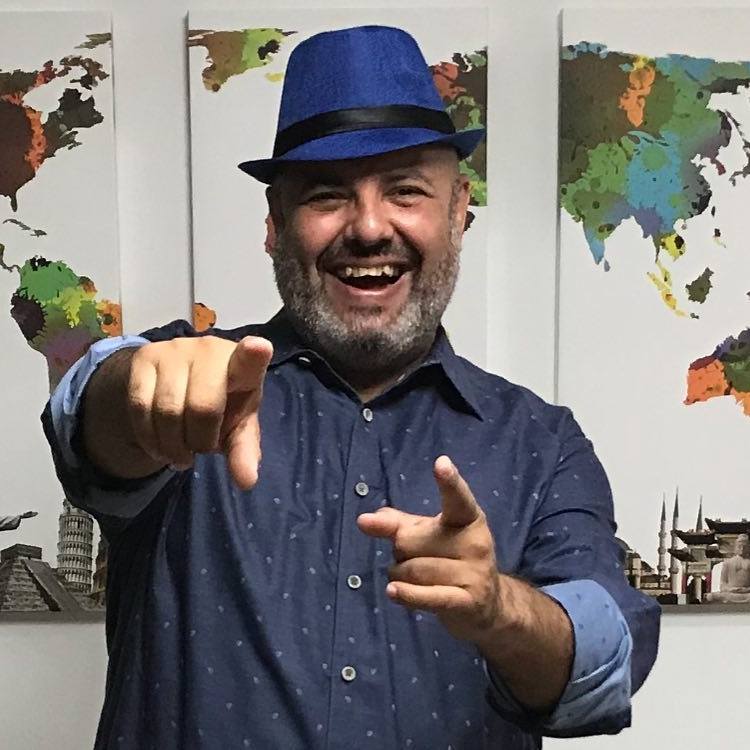 Marcelo Andrade
Carnaval Director
Marcelo Andrade is a Brazilian from Rio de Janeiro who has lived in Florida for almost 20 years and is the current carnaval director for SambaLa, running the day to day operations of the school, its shows, and its rehearsal space. Having grown up with music all his life, he has over the years, cultivated his standing in the samba and Brazilian community as a leader, composer, singer, and father of the Brazilian culture in south Florida. With his warm personality and great repertoire with people, Marcelo is know as the "voice of the school" in more ways than one. He is both a composer, drum player, and main samba singer for the school and can be found everywhere where SambaLa goes. Marcelo owns his own pool maintenance company and is member of various Brazilian-related organizations in Florida.
Alex de Oliveira
Brazilian Carnaval Director / Carnavalesco
Alex de Oliveira is Brazilian currently living in Rio de Janeiro and a multi-talented artist and architect who is most known for his reign as the King of Rio de Janeiro ("Rei Momo") for 10 years. He also is carnaval artist (carnavalesco) having worked for the likes of top samba schools in Rio including Portela and Rocinha. Alex also teaches architecture and design at the university level in Rio. Alex paraded for the first time with SambaLá in Long Beach California in 2008 and in Boca Raton Florida in 2016. In 2016, he accepted the position of Carnaval Director and First Carnavalesco to SambaLá Samba School. We welcome Alex to our SambaLá family! His facebook page: https://www.facebook.com/alex.d.silva.33
Paulo Garcia
Vice-President
Paulo Garcia is a Brazilian from Goias who is a local leader in the Brazilian community in Florida and also a personal growth expert and counselor. Paulo lived in Los Angeles for many years where he came to know SambaLa and Doris and David and currently advises David and Doris de Hilster as to the local Brazilian community in Southern Florida. He is also the spiritual leader of a local community group both in Florida and in Southern California who are known for their local and international charitable works. SambaLá's quick success in Southern Florida was due in great part to Paulo encouraging his community group to become involved with SambaLá. Paulo is also a member of the SambaLá Drum Corps. Paulo is married to Vanessa, has two children, and currently resides in Boca Raton Florida.
Marlus Santos
Director / Facilities
Marlos Santos is a Brazilian from Curitiba who has lived in Florida for almost 8 years. He is one of the founding members of SambaLá Florida and is a talented craftsman and handyman. He helps with the physical facilities of SambaLá's new rehearsal space and is member of the Drum Corps. Marlus currently resides in Boca Raton Florida.